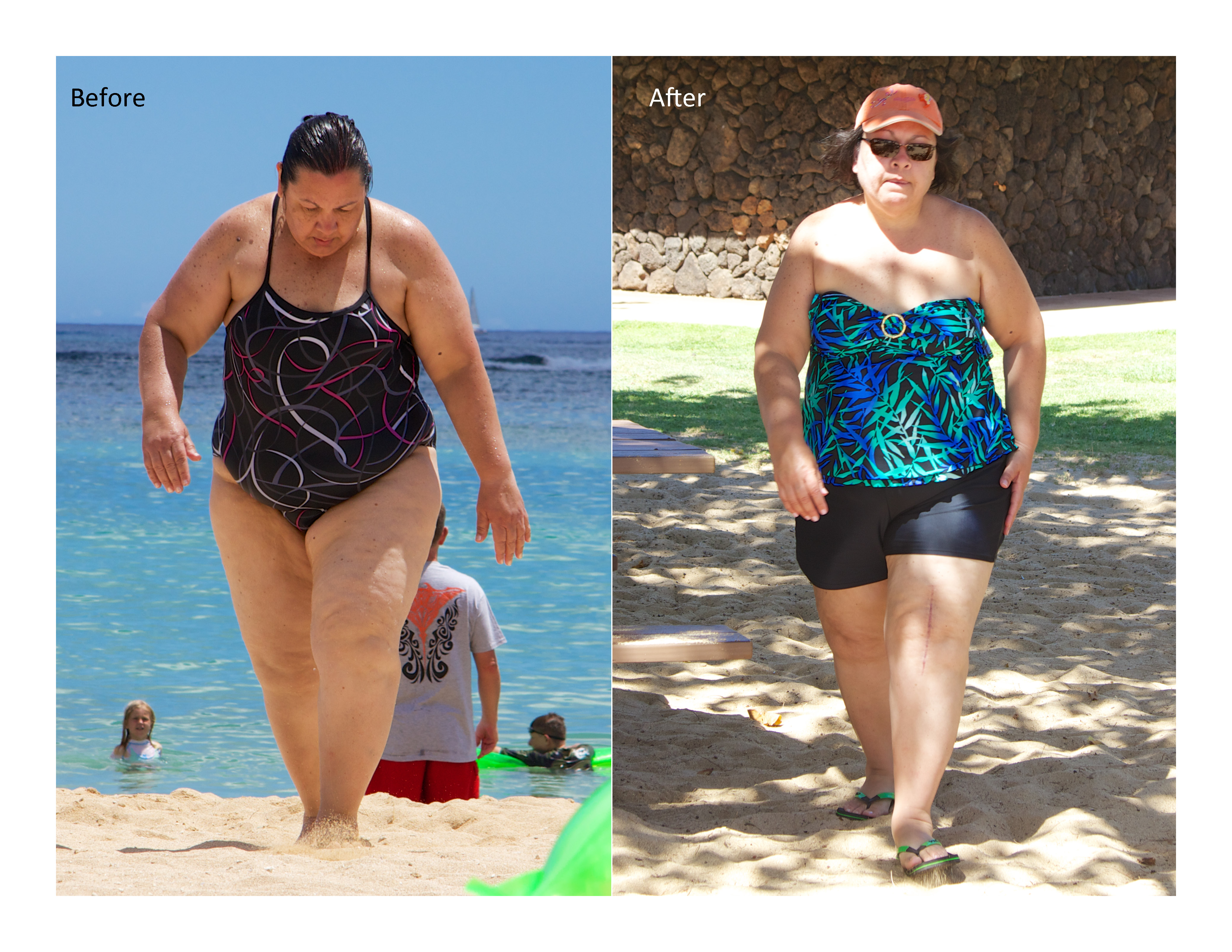 From Damaged Knees to a Healthy Being – Lucero
I decided to enter the "Success Stories Challenge" to share my journey from a partially handicapped person to a fully functional human being so that people with temporary disabilities like me understand that they too can change their lives.  I want them to know that they can improve the quality of their life and apply what they learn in the gym to their daily routine. It just takes effort, dedication and determination!
For more than 6 years, I had been suffering from pain in my knees to a point where I needed a cane to be able to walk and a scooter to be able to perform my job.  In 2010, I was finally seen by a specialist who diagnosed Osteoarthritis in both my knees and suggested that I should lose some weight to alleviate the pain.  I have always weighed more than I should but I had never felt bad or ashamed about it, so I did not like the idea of losing weight at first. After two years of unsuccessful treatment with different drugs, and failing with different diets and nutritional weight loss programs to battle my enormous sweet tooth I came to the realization that I needed to lose weight if I did not want to end up in a wheel chair. I finally decided that exercising was the only way I could lose weight, but I was going to need help if I wanted to be successful. I enrolled in GoodLife with my husband to start my journey to a better life.
The first time I went to the gym, I was lost and disoriented. I had no idea what to do with all the available equipment so I decided it was better to get a Personal Trainer. I started up with six starter sessions with Mike Schwartz and I am so glad I did! Mike showed me how to use the equipment and taught me some exercises that would help me lose weight and build strength in the muscles I needed in order to improve my knee problems. I also had a lot of fun! Mike opened my eyes to a new world full of opportunities for a new me. He helped me understand that it was my decision to change my life and he made me feel more comfortable with myself.  I was happy to continue on with a program consisting of three sessions per week with Mike and a couple "homework" days on my own.
It's hard to believe, but when Mike first asked me why I wanted to train, I told him that I wanted to gain my energy back and maybe lose some weight. Today I can say that it has been a hard road but I have achieved my goals. I feel full of energy! In one year I lost 20kg and I have reduced my body fat percentage by 17%.  I stopped using the cane a few weeks after I started exercising three times a week. I used to get my clothing from "Plus Size" stores. Today, the "Plus Size" section of my wardrobe is history.  You have no idea how great it feels to be able to shop from regular stores without having to ask if what you like is available in a larger size.
But I didn't stop there. I set new goals. In March 2012, I underwent a full knee replacement of my left knee. I was able to get back to the gym in just 2 ½ months because of the "pre-hab" exercises my trainer and I worked on. Exercising after the surgery has helped me recover much faster. Most people don't even believe I had knee surgery when I tell them!
I am a totally new person now. I love training with Mike at least three times a week and I am even walking my dog daily after I return from my session! I feel great today and I am looking forward to replacing my right knee in March 2014. I will be even better prepared then. To all of the sceptical people out there, all of you that don't believe you can do it I want to say that you can! My GoodLife Personal Trainer, Mike Schwartz has helped to show me that although it is challenging, the reward that you get and the feeling of accomplishment to making a better "you" is absolutely amazing!